About us
Are you looking for the perfect Chinese and Asian restaurant? Harmony BBQ and Seafood is just conveniently located at 40- 42 Glenferrie Rd Malvern VIC. Our menu includes delicious dishes like Prawn Spring Rolls, Fried Quail with Salt and Spices, San Choi Bao, Stewed Duck with Mushrooms, Crispy Roast Pork, Pork Ribs with Chinese Style Sauce, Steak Fillets with Honey and Black Pepper Sauce, Diced Beef with XO Sauce, Beef with Black Bean Sauce, Scallops with Seasonal Vegetables, Fried Japanese Tofu with Salt and Spices, Shanghai Bok Choi with Garlic and a whole lot more. Click that Order Online button to place your orders and have it delivered or pick it up here.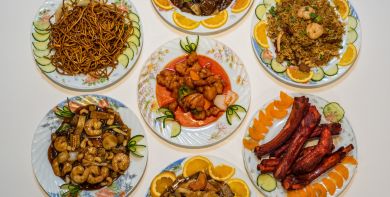 Reviews
Fiona
"Always a joy to order from my favorite Chinese Take out. Unfortunately my request for no spicey was forgotten. But it wasn't too bad. Still could eat it."
24/12/2019
Michael
"Once again, excellent food. I've ordered it at least 4 times.Cheers."
15/12/2019
Adrian
"Great food with excellent service"
3/12/2019
Koulla
"Delicious"
2/12/2019